Quality Policy
We are committed to manufacture and supply products confirming to mutually agreed specification on time to our customer satisfaction. We endeavour to achieve this by adopting and implementing quality systems in line with requirements of ISO 9002 with dedication and team work of all MIL employees.

MIL has a specialised Quality Policy division to take care of inspection right from raw material to final packing of products with close monitoring of quality at each and every stage. The technical personnel have constant interaction with experts in the latest technological advancements taking place elsewhere in the world. Awarded ISO-9002 certification by bureau of Indian Standards.

MIL's ceramic laboratories are provided with testing facilities for controlling raw material, body composition, porocity, pH value, shrinkages, mechanical characteristics during dry and fired ware stages, co-efficient expansion of ceramic bodies and glaze.
Products | Technology | Research and Development | Quality Policy | Clients | H R Activities | Awards | Offices | Feedback | Home |
---
Modern Corporate | Modern Woollens | Modern Suitings
| Modern Threads | Modern Insulators | Modern Denim
| Modern Terry Towels | Modern Petrofils | Response Cell

Granulometer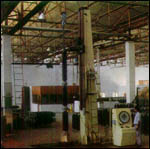 Routine Bending Test